"In 2014, I challenged our Woodwinds team to create the first synthetic reed to duplicate the properties and playing characteristics of natural cane. After numerous years and thousands of hours, we accomplished the task by creating a material matrix of co-polymers, longitudinal fibers and real cane elements that have the physical and sonic properties of real cane" -Jim D'Addario
Here at Curly Woodwind HQ we've been hearing about D'Addario's (secret) project for quite a number of years - eventually they were released in the U.S. a couple of years ago but had a few issues! Various reports on woodwind forums about the longevity - reeds falling apart, fibres coming loose etc. Damn, this didn't sound good at all and we thought that would be the last we ever heard about VENN reeds. However, D'Addario took this on board and went back to the drawing table. Fast forward to 8 weeks ago and the new Generation 2 VENN reeds were launched in the U.K.
D'Addario UK visited Curly Woodwind with some beautifully packaged sample reeds for us to try. Now I will admit I've tried virtually all the various synthetic reed brands and models over the last 30 years from Bari to Legere and everyt"A NEW SPECIES OF REED"
hing in between and quite honestly never really liked any. I mean the idea of having a reed that doesn't need "warming up"/ breaking in, plays consistently day to day and lasts a good while is a most attractive proposition. I just felt that all the synthetics I'd tried thus far had sounded, well, synthetic if that makes sense. Probably great if I was playing commercial music, pop, rock and wanted a bright, cutting sound but for me, they just didn't have that warm, woody sound you get with real cane.
I was therefore sceptical to say the least about D'Addario's offering and actually said "you know I won't like this right?" before playing my first note in front of the representative.
OK! MASSIVE U TURN ALERT, I loved it. Unlike any other synthetic I've tried the VENN had this big, warm, woody, thick sound with great projection - right up my street. Obviously, it didn't feel like a "real" reed in the mouth, somewhat stiffer and not as soft pliable as natural cane - but that sound!
I've used the same reed everyday for the last 8 weeks and played around 20 gigs on it in various settings - acoustic duos to loud, heavy, quintet gigs. So far, so good - I absolutely love the consistency day to day, when I start practicing in the morning, it immediately feels like I've already been playing for 20 minutes and can get straight to concentrating on the music. Also regarding longevity, D'Addario state that a VENN reed should last around 3 - 6 months, I've not noticed any softening or change in performance of my VENN in eight weeks so seems to do what it's supposed to do.
Presently, D'Addario are offering VENNs for Bb clarinet, alto and tenor saxophone in strengths 2, 2.5, 3.0, 3.0+, 3.5 and 4.0 with more variants on the way.
We are retailing the Bb clarinet and alto sax reeds at £27.00 (free UK shipping) and tenor sax reeds at £29.50 (free UK shipping).
Give them a go, it might be the best thing to happen to your playing!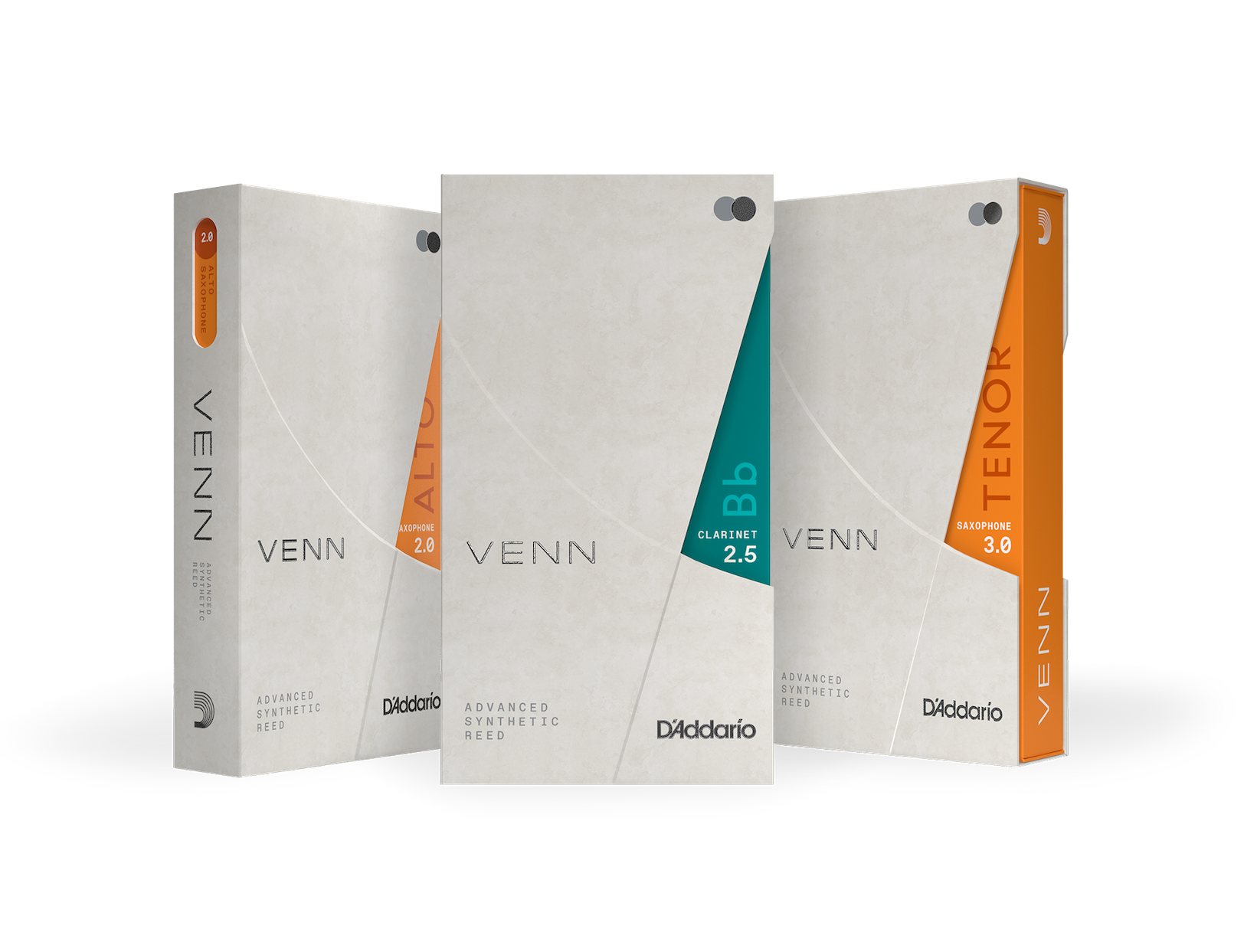 Recent Posts
REEDS, REEDS, REEDS! The bane of a sax player's life!So many brands, cuts, prices - it's a minefield …

"In 2014, I challenged our Woodwinds team to create the first synthetic reed to duplicate the proper …

ABSOLUTELY! Ever had the cursed sticky G# key on your sax? Just as you're playing a killer phra …